3D Portrait by Drawing Booth
New activation for your event!
Take your photobooth to the next dimension (literally!) with the new 3D Portrait by Drawing Booth. Guests choose their "best side", their favorite angle from a 360 view to send to themselves digitally. Just 30 seconds per scan plus emailing. Guests receive their 3D portrait instantly along with a highly sophisticated scan stylization option. The entire activation can be completely mobile with adequate lighting.
– Digital Takeaway
3D Portrait still-frame in JPG format. One natural and one stylized version per guest.
– Logo Branding*
Logo graphic overlay is applied to all images.
(Deadline 1 week before event. Must specify if no branding requested)
– Emailing
Guests receive their 3D likeness via email. Devices are equipped with 4G LTE for instant sharing.
– Email Customization
Customize the email that guests receive with their image attached. Basic customization includes subject line and email text body. Deadline: 1 week before event.
– Image Styles
Guests choose a stylization and receive both stylized and original versions of their 3D portrait. Up to 13 pre-loaded effects to style your 3D image.
Upgrades :
– Printing Station
High power printing for quick on-demand hard-copy takeaways. Choose matte, glossy, or luster in 4×6 or other sizes. Repositionable sticker and other sizes available.
– Custom Stylization
Mimic a specific artistic or brand concept in an endless number of styles trained for the client's preferences. Can replicate effects from an image, photograph, color, pattern. The possibilities are endless!
– Email HTML Upgrade
Customize the look and feel with a full HTML styling.
– Full Body Scanning
Get more in your image! More lights and scanners added to capture the same number of event guests from head to toe.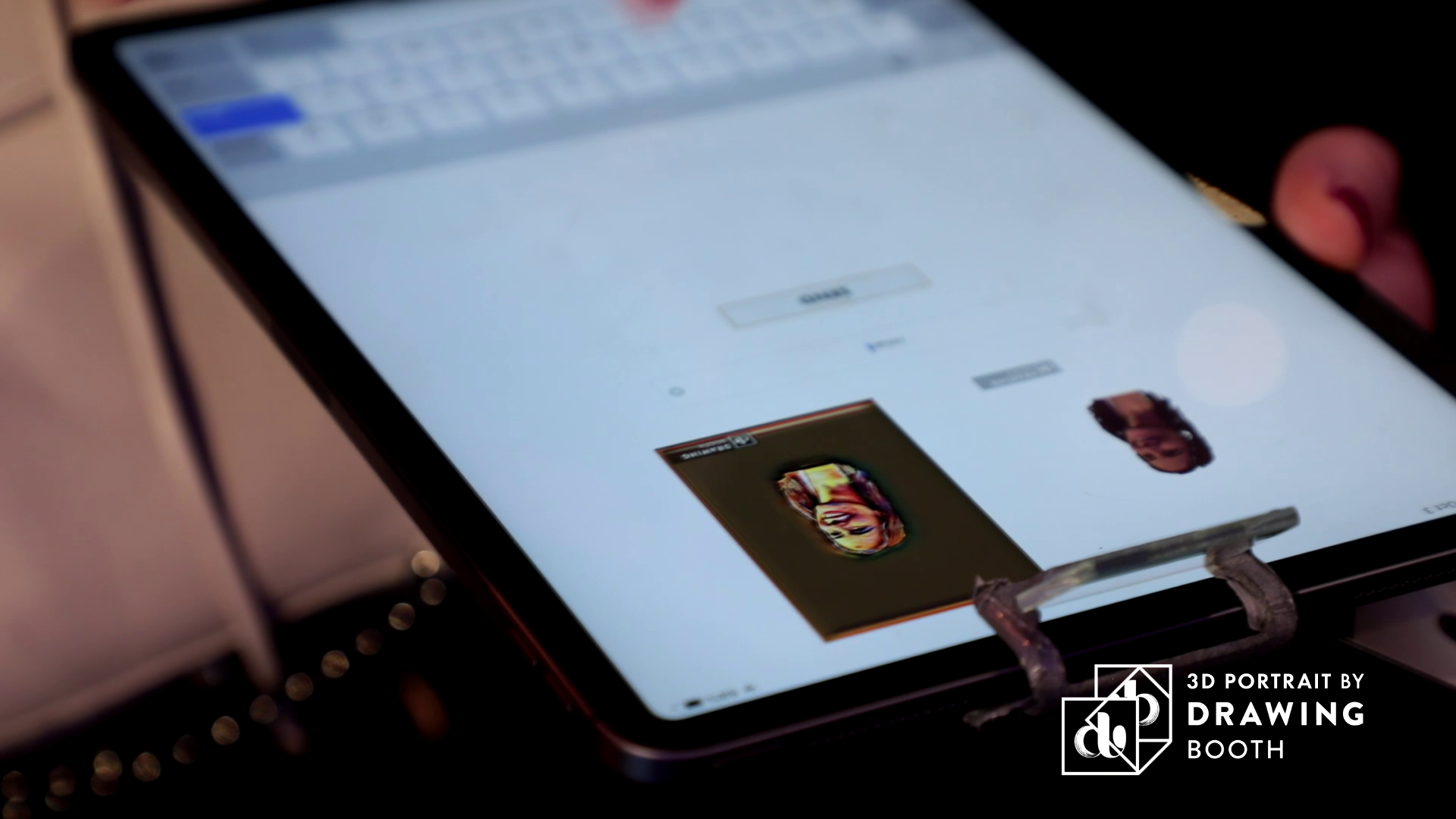 FAQ
What will guests like about it?
This is the only selfie where you can see yourself from so many angles.
This is the first time that 3D scanning is available as a photobooth event activation!
What is interactive about it?
Guests have full control over the angle of themselves they want to capture and keep. Great user interactive creative engagement activation.
How does it work?
Event guests hold a pose for 30 seconds while a Drawing Booth 3D Photographer scans their portrait using an 8x10in mobile flat scanner. The scan generates a data point cloud to create a digital model of the guest.
Guests manipulate the captured scan in a virtual 3D space on the scanner's screen and pick an angle they would like to send to themselves. Guests select a stylization of their choosing from the available options. Guests then enter their email and instantly receive both the stylized and original image capture with event branded overlayed on the image.
What is the Custom Stylization?
Each point in the digital image can be manipulated to have a unique effect like a brush stroke or shape. This 3-Dimensional "filter" is referred to as the "style." 13 styles come included but you can create a custom effect to match your event or branding theme. This is a highly sophisticated process to live style every point in real-time. The possibilities are endless.
How long does it take?
The scanning process is a short 30 seconds. All additional time is allotted for introducing the experience, selecting a style, and sharing to guests' emails.
What do guests receive?
Guests receive two images. A JPG file of the original 3D photo plus the stylized version. Both images include company branding automatically.
What is required for setup?
Well lit area for scanning. Supplemental lighting on light stands and mobile lights provided by Drawing Booth. (Quality scans require well lit environments.)
A chair is helpful. While not required, providing a chair for guests to sit on during the scanning process helps the guests remain still during the scan, ensuring a clean image. One chair per scanner.
Doesn't have to be stationary. Scanners are completely mobile and can operate at any part of your event with adequate lighting conditions. A designated scanning area gives space for stationary lighting, and helps create more awareness of the activation's presence at the event. This is particularly beneficial when it comes to experiencing the process, asking and getting questions answered, and this can also help guests to remain still for a quality scan.
No wifi required! Scanners have their own independent internet connection.
What technology are you using? It looks so simple!
3D Portrait uses two cutting edge technologies, the 3D scanning component offered by our partner Standard Cyborg and the stylization AI backend system offered by Fritz, to create unique, 3-dimensional masterpieces. Guests are scanned with an infrared depth sensor that builds a high resolution point cloud. The point cloud stores color information (RBG) and creates a virtual map of the person being scanned. We then apply a neural network style transfer to the 3D scan to apply artistic effects to each point of the cloud. These changes are happening live so the guest can see their options in real time. The guest then manipulates the 3D model to apply the stylization to any angle.
How is the end result a unique and creative event product?
The point cloud is high tech Pointillism. Our technology is trained to alter each point to custom settings for unique overall effects.